The months after graduating college are magical times and likely the last chance for significant travel time before venturing into the job market. We recently asked our HotelPlanner community to share their own unique travel experiences after finishing school for the ultimate post-grad vacation guide. From swimming with pigs to taking a cross-country road-trip, here's a list of recommendations that'll broaden your horizons.
Zip Line Over the Costa Rica Rainforest
Grads looking for the ultimate adventure destination can find it all travelling to the beautiful, lush green country of Costa Rica. Ziplining over the rainforest is a must for several reasons. First, the jungle canopy zipline was invented here by a U.S. biology student looking for unique ways to experience its rugged, dense terrain. Secondly, imagine towering over 100 feet above the jungle with breathtaking views of plants, animals, and mother nature. Thirdly, you don't have to worry about inclement weather as Costa Rica maintains good weather year-round with two-distinct seasons: the high season (with the driest and hottest temps) from March to May and the green season (with the rainiest and coolest temps) from November to January. Rain or shine, zipline your way across one of the most diverse destinations anywhere in the world.
Snorkel in the Beautiful Florida Keys
Uncover the best reefs with a Florida Keys snorkel experience. From Key Largo to Key West, and all the keys in between, spend a full day in the ocean swimming in clear, visible waters. With the third longest barrier reef in the world and the only tropical coral reefs in the nation, it's the perfect travel destination for snorkeling enthusiasts. Reaching any reef is nearly exclusive by boat which means healthy, unspoiled snorkeling spots filled with fish and other underwater creatures, from corals to starfish, seahorses and turtles.
Backpack Your Way Through Australia
Backpacking in general is very much like a rite of passage for post-grads before venturing into the real world, especially when traveling to a popular country like Australia. Best known for its vast interior desert wilderness (a.k.a the Outback), unique animal species, and laid-back lifestyle, it's no wonder this is the traveling destination for those looking for a safe, adventurous experience. For the best backpacking through Australia, consider going through some of the top sites and activities the country has to offer from Daintree National Park, Fraser Island, to the Great Barrier Reef and Uluru. There's plenty to see and do. Create your own backpacking itinerary and explore the wonder that is the great outback.
Go Shark Cage Diving in South Africa
Dive right beside South Africa's great white sharks for the most thrilling and heart pounding trip of a lifetime you'll want to share over and over again with your friends and family back home. South Africa is the only destination worldwide for shark-cage diving with great white shark activity happening all year-round. Located about 2 1/2 hours from lovely Cape Town, the fishing town of Gansbaai, also known as the great white shark capital of the world, is the place where you can view these majestic creatures from the surface or underwater. Take a GoPro and conquer your fears with a trip to the southernmost tip of the African continent.
Ride Banana Boats in Myrtle Beach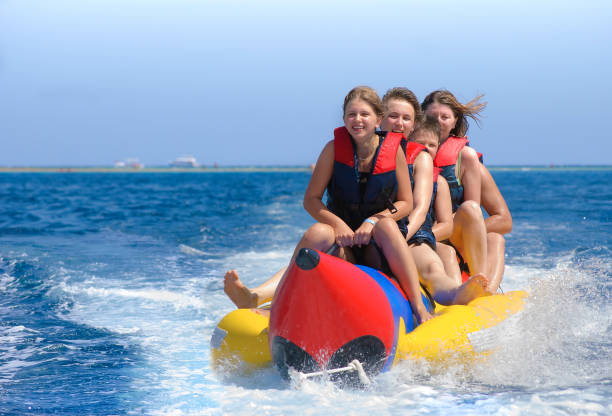 For a more no nonsense travel experience closer to home, consider a trip to Myrtle Beach, a top beach and vacation destination for grads that simply want to lay out in the sun and enjoy numerous and albeit unique, water sports. Ride a banana boat, one of the city's most popular attractions ideal for the ocean or the tranquil waters of the inlet. Hop on and hang on for a wild ride miles down the coast, and then offshore for a great view of Grand Strand, home to the largest stretch of beaches on the East coast, before returning right back on the beach.
Swim with Pigs in the Bahamas
Love the water and animals? Head to Exuma, Bahamas and spend the day visiting the adorable swimming pigs that inhabit the area. Immerse yourself in a tropical paradise where adventure awaits with a fun and scenic boat tour through The Exuma Cays, which stretches northwest from Grand Exuma. Then it's off to swim alongside the cute little pigs in clear, turquoise water where you can also snorkel, interact with a stingray or starfish, and feed a Bahamian rock iguana. It's all in a days trip when you visit the island.
Take a U.S. Cross-Country Road Trip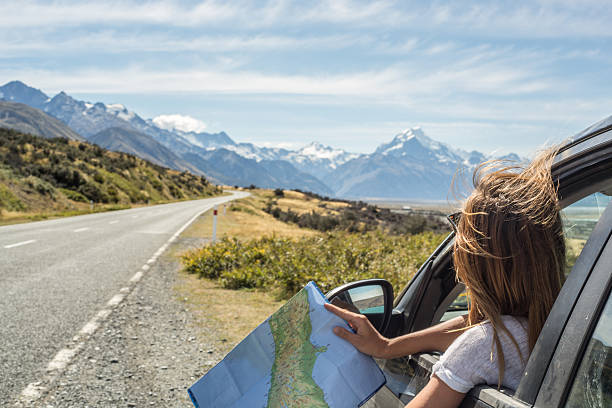 A great post-grad trip isn't complete without an old fashioned road trip. If you haven't explored all the wonders each unique state has to offer, planning a U.S. cross-country road-trip will do just that. There are so many different types of routes to explore whether heading West to East or North to South. Enjoy the great outdoors? Consider creating a road map that'll take you across all the different National State Parks. Looking for history and miles of desolate land? Consider following Route 66, which stretches across 8 states and 3 time zones. A great American road trip might just be the right kind of travel experience you're searching for.
A digital content and communications specialist, editor, and cat enthusiast, Claudia Flores has a diverse background in public relations working at Hotel Planner and Meetings.com. A native of California and graduate from Liberty University, she is now residing in sunny West Palm Beach, FL. She loves traveling to new exotic places, dabbling in movie trivia, and has a soft spot for animals. Follow @ClaudeFloresPR