In honor of all things travel, we asked our online HotelPlanner community to share some unique packing tips or tricks they've used for a stress-free vacation. See below and pack away!
Take an Empty Bag/Suitcase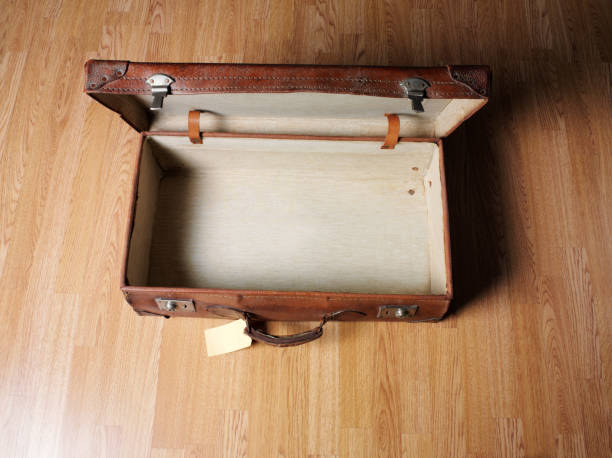 Don't worry about not having enough room for all your extra belongings you've managed to purchase during your travels. Use a big enough bag that there is room to bring back stuff in it or if your airline offers two free checked bags (think JetBlue and Southwest Airlines), check-in your full bag plus an empty one and fill it up on your way back with souvenirs galore. Avoid unnecessary fees too! Be sure to also pack a portable digital luggage scale like the one here so you don't go over your weight limit.
Use Plastic, It's Fantastic 
Ever arrived at your destination to have a bottle of shampoo or some other beauty product "explode" due to air cabin pressure or careless baggage handling? Pack items in a variety of zippered travel bags so things don't shift in the suitcase. Things will stay put and be that much easy to unpack. Anther consideration: only pack the the things you need and use plastic wrap over the tops of bottles to keep from spilling. There's also nifty vacuum seals bags you can purchase here that'll keep your items tightly secured, including your clothes to save room and unnecessary stress.
Roll it Up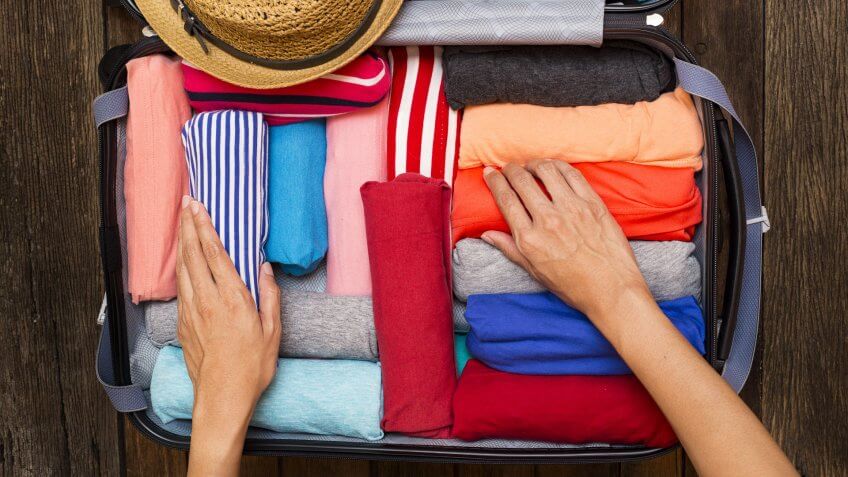 Pack more and save valuable space by rolling your clothes on your next vacation. From pants to shirts- dresses and shorts- rolling everything also keeps clothes stay wrinkle free as there are no folds, making it easier to simply unroll and put on. Another tidbit: You can also pack small things in your socks for extra space and put those socks into your shoes for even more additional room. This includes packing other undergarments right into your shoes. Still worried about certain sensitive clothing prone to wrinkles? Consider adding a portable steamer like the one here to your luggage since you saved all that additional space.
Be Random and Be Found
No one wants to lose luggage ever, but in the worst case scenario, make it easier and stress free to locate your bag by packing a weird identifiable item. This also works best for airlines to identify your items in case the tags comes off. Pack something out of the ordinary like a certain key chain, a colored rubber ducky, etc. that way if your belongings get lost, it can be identified quicker. Consider this luggage identifier here or here the next time you go on a much needed vacation.
Make a List and Check it Twice
Forgetting something important can be terrible and pretty detrimental. A great tip to make sure you pack everything needed is making a checklist you can check off while packing. It really works and saves you a lot of time and unnecessary headaches. Remember: organization is the key! Segment your packing to a specific place in your luggage so you know where everything is at. Have a bag for toiletries, have a bag for other essentials like vitamins, medicine, chargers, extra batteries, cough drops, first aid kit, sunblock, etc. depending on your travel destination. Keeping it all within reach avoids confusion and makes you better prepared for any emergencies. Have fun packing with this fun planner tool here ideal for those going on vacation between 1 to 5 days.
Make Copies of Everything
Before venturing out on your fun-filled vacation, make sure you have copies of all your important documents (i.e. passports, visas, credit cards, hotel, flight, and car reservation papers), and store them separately from the originals. Doing this simple process will help save you a lot of headaches if the originals are lost or stolen. Also print out important emergency numbers and local contact information wherever your travels take you because you never know what might happen. Want extra security? Consider getting a travel document organizer like the one here that is made with RFID blocking material, helping to prevent identity theft by blocking RFID signals and not your cell phone.
Leave the Real Bling At Home
As tempting as it may be, leave the real expensive and valuable belongings at home. Don't bring anything you aren't prepared to lose. Instead, consider packing a cute and inexpensive watch, earrings & necklace set that you can wear with anything on your travels. Wearing pricey items can make you a target while traveling. The key is to try and always blend in as best as you can with your surroundings. Keep your jewelry organized too with this cute roll bag here with a convenient hanging hook for easy storage.
Our last tip and trick: Always plan for the unexpected because you never know what may happen, good or bad, during your travels. Remember to go with the flow when things don't go as planned for a stress-free vacation!
A digital content and communications specialist, editor, and cat enthusiast, Claudia Flores has a diverse background in public relations working at Hotel Planner and Meetings.com. A native of California and graduate from Liberty University, she is now residing in sunny West Palm Beach, FL. She loves traveling to new exotic places, dabbling in movie trivia, and has a soft spot for animals. Follow @ClaudeFloresPR